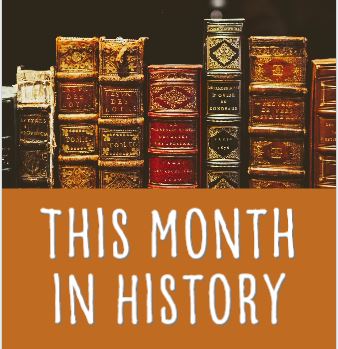 July 1, 1862 – President Abraham Lincoln signed the first income tax bill, levying a 3% income tax on annual incomes of $600-$10,000 and a 5% tax on incomes over $10,000. Also on this day, the Bureau of Internal Revenue was established by an Act of Congress.
July 2, 1964 – President Lyndon B. Johnson signed the Civil Rights Act of 1964, prohibiting discrimination on the basis of race in public accommodations, publicly owned or operated facilities, employment and union membership and in voter registration. The Act allowed for cutoff of Federal funds in places where discrimination remained.
July 4, 1776 – The Declaration of Independence was approved by the Continental Congress.
July 5, 1810 – Promoter and showman P.T. Barnum (1810-1891) was born in Bethel, Connecticut. His American Museum opened in 1842, exhibiting unusual acts such as the Feejee Mermaid, Siamese Twins Chang and Eng, and General Tom Thumb. In 1871, Barnum opened "The Greatest Show on Earth" in Brooklyn, New York. He later merged with rival J.A. Bailey to form the Barnum and Bailey Circus.
July 11th 1767 – John Quincy Adams (1767-1848) the 6th U.S. President, and son of the 2nd President, John Adams, was born in Braintree, Massachusetts. After serving just one term as President, he served 17 years as a member of Congress. He died in 1848 while in the House of Representatives in the same room in which he had taken the presidential Oath of Office. He was the the first president whose father had also been president.
July 25, 1956 – The Italian luxury liner Andrea Doria sank after colliding with the Swedish liner Stockholm on its way to New York. Nearby ships came to the rescue, saving 1,634 people, including the captain and the crew, before the ship went down.