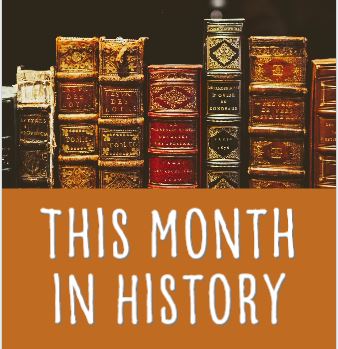 May 2, 2011 – U.S. Special Operations Forces killed Osama bin Laden during a raid on his secret compound in Abbottabad, Pakistan. The raid marked the culmination of a decade-long manhunt for the elusive leader of theal-Qaeda terrorist organization based in the Middle East. Bin Laden had ordered the coordinated aerial attacks of September 11th, 2001, in which four American passenger jets were hijacked then crashed, killing nearly 3,000 persons. Two jets had struck and subsequently collapsed the110-story Twin Towers of the World Trade Center in New York, while another struck the Pentagon building in Washington, D.C. A fourth jet also headed toward Washington had crashed into a field in Pennsylvania as passengers attempted to overpower the hijackers on board.
May 5, 1893 – The Wall Street Crash of 1893 began as stock prices fell dramatically. By the end of the year, 600 banks closed and several big railroads were in receivership. Another 15,000 businesses went bankrupt amid 20 percent unemployment. It was the worst economic crisis in U.S. history up to that time.
May 6, 1937 – The German airship Hindenburg burst into flames at 7:20 p.m. as it neared the mooring mast at Lakehurst, New Jersey, following a trans-Atlantic voyage. Thirty six of the 97 passengers and crew were killed. The inferno was caught on film and also witnessed by a commentator who broke down amid the emotional impact and exclaimed, "Oh, the humanity!" The accident effectively ended commercial airship traffic.
May 8, 1942 – During World War II in the Pacific, the Battle of theCoral Sea began in which Japan would suffer its first defeat of the war. The battle, fought off New Guinea, marked the first time in history that two opposing naval forces fought by only using aircraft without the opposing ships ever sighting each other.
May 13, 1981 – Pope John Paul II was shot twice at close range while riding in an open automobile in St. Peter's Square in Rome. Two other persons were also wounded. An escaped terrorist, already under sentence of death for the murder of a Turkish journalist, was immediately arrested and was later convicted of attempted murder. The Pope recovered and later held a private meeting with the would-be assassin and then publicly forgave him.
May 15, 1972 – George Wallace was shot while campaigning for the presidency in Laurel, Maryland. As a result, Wallace was permanently paralyzed from the waist down.
May 20, 1932 – Amelia Earhart became the first woman to fly solo across the Atlantic. She departed Newfoundland, Canada, at 7pm and landed near Londonderry, Ireland, completing a 2,026-mile flight in about 13 hours. Five years later, along with her navigator Fred Noonan, she disappeared while trying to fly her twin-engine plane around the equator.
May 21, 1991 – Former Indian Prime Minister Rajiv Gandhi was assassinated in the midst of a re-election campaign, killed by a bomb hidden in a bouquet of flowers. He had served as prime minister from 1984 to 1989, succeeding his mother, Indira Gandhi, who was assassinated in 1984.