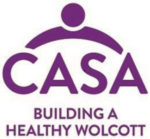 Citizens Against Substance Abuse (CASA), Wolcott's local prevention coalition, is launching a Mental Health and Wellness Series for youth and families. Funding for this initiative is provided by a generous grant from the Bristol Savings Bank Fund at the Main Street Community Foundation.
Starting in August, CASA coalition members and staff will be offering various programs including; virtual yoga, mindfulness and stress kits, virtual speaking engagements on a variety of wellness topics, mental health resources distributed to the community at large, and promotion of free mindfulness and mediation apps and resources. Due to COVID-19 for the health and safety of the community all programs will be offered virtually until further notice. It is strongly encouraged to check out CASA's website: www.wolcottcasa.org as well as CASA's Facebook and Instagram pages for more information and to stay updated on these initiatives.
CASA's goals with this program are to increase help seeking behavior, and to reduce stress and anxiety among youth and adults. Through CASA's extended and comprehensive wellness series the hope is to increase awareness and participation in one's own stake in making their mental health a priority.
For more information, please call Haley Shoop at 860-989-5198 or email hshoop@wolcottps.org