Noteworthy Dates in April 2020
April 1 is All Fools' Day otherwise known as "April Fools' Day."
April 8 marks the start of Passover (beginning at sundown).
April 10 is Good Friday. April 12 is Easter Sunday. (April 19 is Orthodox Easter.) Did you know that Easter's date is related to the full Moon?
April 22 is Earth Day.
April 23 marks the start of Ramadan (beginning at sundown).
April 24 is National Arbor Day.
Just for Fun Days
April 1: Sweet Potato Day
April 6: International Pillow Fight Day
April 7: National No Housework Day
April 17: Blah, Blah, Blah Day
April 21: Go Fly a Kite Day
April 26: National Richter Scale Day
April 27: National Sense of Smell Day
Make Your Own Cleaning Products
Homemade cleaners are simple and a great way to save money.
WARNING: Never mix cleaning products containing bleach and ammonia, as dangerous fumes will result.
EASY SCRUB
¾ cup baking soda
¼ cup borax
dishwashing liquid
Combine the baking soda and borax. Mix in enough dishwashing liquid to make a smooth paste. If you prefer a pleasant smell, add ¼ teaspoon lemon juice to the paste
HEAVY-DUTY DISINFECTANT CLEANER
¼ cup powdered laundry detergent
1 tablespoon borax
¾ cup hot water
¼ cup pine oil, or pine-based cleaner
Slowly stir the detergent and borax into the water to dissolve. Add the pine oil (available at hardware stores and supermarkets) and mix well. For bathroom cleaning, use the mixture full strength. In the kitchen, dilute it with water.
WOOD FLOOR POLISH
½ cup vinegar
½ cup vegetable oil
Mix the ingredients well, rub on the floor, and buff with a clean, dry cloth.
GLASS CLEANER
2 tablespoons ammonia
½ cup alcohol
¼ teaspoon dishwashing liquid
a few drops blue food coloring
water
Combine the ammonia, alcohol, dishwashing liquid, and food coloring, then add enough water to make 1 quart. If you prefer a nonammoniated cleaner, substitute 3 tablespoons vinegar or lemon juice for the ammonia.
SOURCE: The 1999 Old Farmer's Almanac Home Library Series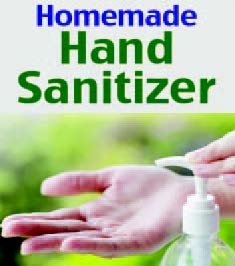 Ingredients
⅔ cup 99% rubbing alcohol
⅓ cup aloe vera gel
2-3 drops of essential oil (optional)
From here all you have to do is mix the ingredients, funnel them into the bottle you set aside, and use at your leisure. Remember, the sanitizer still contains ingredients that are harmful if ingested – make sure yours is in a resealable container, clearly labeled, and out of the reach of children.