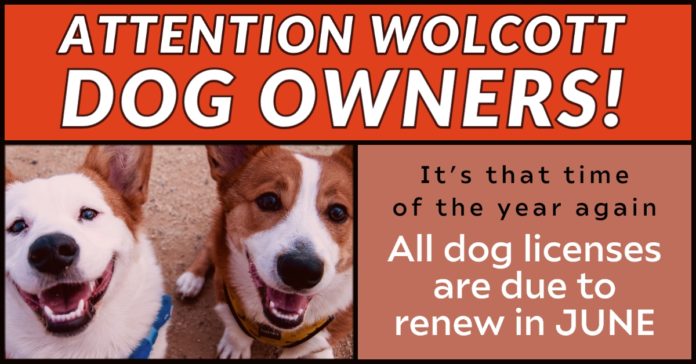 A Minute with the Clerk
By: Karen Mowad, MCTC, MMC
ATTENTION WOLCOTT DOG OWNERS
Yes, it's that time of year again but this year is a little different. While we love to see your smiling faces and pretty pets, this year mailing in is a popular choice as we continue with social distancing. Also, the State has allowed an extra month to get the job done. Here is the information:
All dog licenses are due to renew in June. To license your dog we will need:
• Current Rabies Certificate (if not on file in our office)
• Copy of Spay/Neuter Certificate (if not on file in our office)
• Applicable fee:
$8.00* Neutered Male/Spayed Female
$19.00* Unaltered Male/Female
*There are late fees if you license after July 31st.
• Complete the form following this article
• Mail to Wolcott Town Clerk, 10 Kenea Avenue, Wolcott, CT 06716
• Include check or money order (no cash in the mail, please)
• Include Rabies or Spay/Neuter Certificate if applicable
• Please include a self-addressed stamped envelope
As always, if you have any questions, please feel free to call us at 203-879-8100.