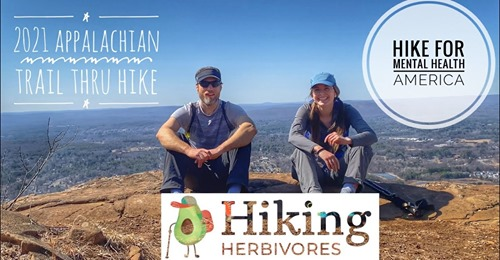 Greggory Gorneault, who was born and raised in Wolcott.  A 2002 Wolcott High School graduate who, with his partner, Erin Salois, is hiking the Appalachian Trail and raising money for Mental Health.   They left on April 14th and are hoping to complete the hike by October 15th at Katahdin mountain in Maine.
On April 14th at 9 am we started the Appalachian Trail headed to Maine. Everything we need for the next 6 months (except getting food every 4-5 days) is in our packs. Feeling anxious to start, sad to be leaving friends and family for so long, super excited for the journey ahead, and a host of other emotions.
We are doing this hike as a charity fundraiser for Mental Health America. Please consider donating to help our friends, family, neighbors, coworkers, etc.
Here's a link to our fundraising page:
https://give.classy.org/HikingHerbivores.
You can also follow along on our YouTube channel: https://youtube.com/channel/UCemNdg-evZtqoH4a94z9fNg