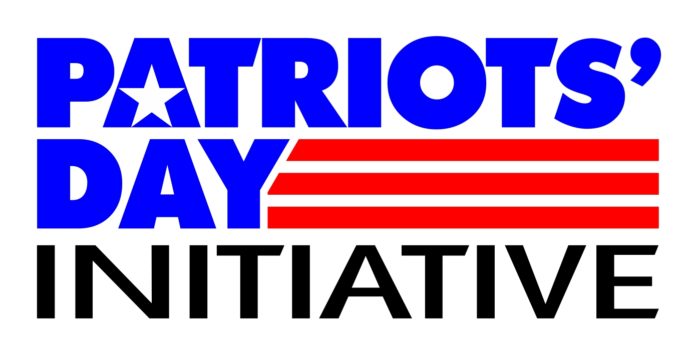 Patriots' Day Success

Wolcott celebrated Patriots' Day on Monday, April 19th, at the American Legion Hall, Post 165. This 5th annual celebration marks Connecticut's patriotic holiday and commemorates the historic Battles of Lexington and Concord, April 19, 1775. Presentations were made by Patriot Youth Ambassadors: Makendra Mowad, Lauren Kornhaas and Hannah Wright. These dynamic leaders helped host the event and also recited the famous poem by Henry Wadsworth Longfellow, The Midnight Ride of Paul Revere.
Ongoing support, year after year, is graciously shown by Mayor Tom 
Dunn and Senator Rob Sampson. Patriots' Day Citations were awarded to honor local nominees: Peter Grasso and (posterior) Edgar R. Sanchez. Other local Veterans were blanketed with Quilts of Valor made possible by Cindy Guendert and the Quilts of Valor Foundation (www.qovf.org). The whole program was reflective of Wolcott's tremendous pride and ongoing effort to honor our Veterans and showcase our dynamic youth. Boy Scout Troop 230 presented colors and Senior Troop Leader, Brandon Price, was honored for his support throughout the community and his volunteer work with the Patriots' Day Initiative. Connecticut student artist, Emma Stein, was recognized for her creative wooden work of art which will be displayed at the Wolcott Historical Society Museum in commemoration of the holiday. 
Due to continued social distancing guidelines, the ceremony was small in attendance with about forty in person guests, but was also LIVE streamed via YouTube for viewers to tune in from home. Senior graduate and Youth Ambassador, Hannah Wright, was also honored as she heads off to the West Point Academy in the fall. At the close of the program donation checks were presented to both the American Legion Post 165 and VFW Post 1979 from the proceeds of the Annual Veteran's Vigil and Luminary Ceremony. The Patriots' Day Initiative is grateful for the many sponsors and supporters that help make this annual celebration possible. Thomaston Savings Bank continues to top the list of donors that give generously each year. 
The Patriots' Day Initiative mission is to spark more patriotism in the hearts of our citizens and unite the community. A Flag Day ceremony is scheduled for Saturday, June 12th, at 10am on the Wolcott Town Green. Hope you can join us then!
For more information about the Patriots' Day Initiative or to become a Patriots' Day Ambassador please visit our website: www.observepatriotsday.org or call Director-Stacy Perrone-Petta at 203.228.7305 or Assistant Director-Dan DiVirgilio 
at 203.509.3994