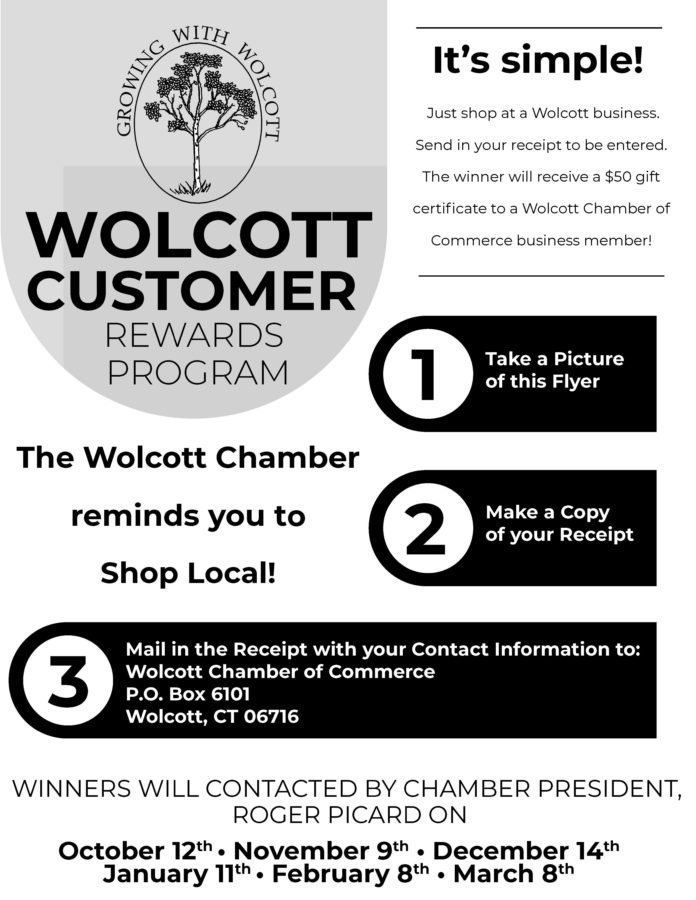 The Wolcott Chamber of Commerce is launching a Customer Rewards Program that will reward customers of Wolcott businesses. Every time you make a purchase at a Wolcott business and receive a receipt for your purchase, make a copy of your receipt, write your name and contact phone number on it and mail it to the Wolcott Chamber of Commerce, P.O. Box: 6101, Wolcott, CT 06716. Your receipt will be entered into a drawing, beginning October 12th, at which time a lucky winner will receive a $50.00 gift certificate redeemable at a Wolcott Chamber member business. A new winner will be chosen every month, on the second Monday of each month, thru March 8th. All Wolcott businesses receipts are eligible for the drawing. This is the Chamber's way to reward customers who shop locally and support Wolcott businesses.
The Wolcott Chamber of Commerce is affiliated with the Central CT Chambers of Commerce that include the towns of Bristol, Plymouth, Farmington, and Burlington. Being a member of our Chamber is like having your own "Public Relations" firm. We are here to help promote your business and keep you aware of issues that could affect it also. A strong business climate is important to our community. Strong local sales mean a healthy local tax base, adding to the quality of life in our community. Thriving businesses contribute further by providing jobs and products close to our residents' homes. They also contribute to local non- profit organizations and community campaigns when the need arises.
Along with promoting your business, we also advocate for your interests. A single voice can go unheard but the united voice of the Chamber of Commerce has proven effective and beneficial to businesses. We build bridges with the town and other governmental agencies. If you own a business, if you depend on a healthy economy or if your service/non-profit organization values the contributions of our local business community, then membership in the Wolcott Chamber will serve you well. Join us, in our continuing investment in a strong local economy.
Contact Wolcott Chamber President Roger Picard for any additional information at 203-879-3356 or email at r.picard911@gmail.com.
"Growing With Wolcott", Roger Picard, President