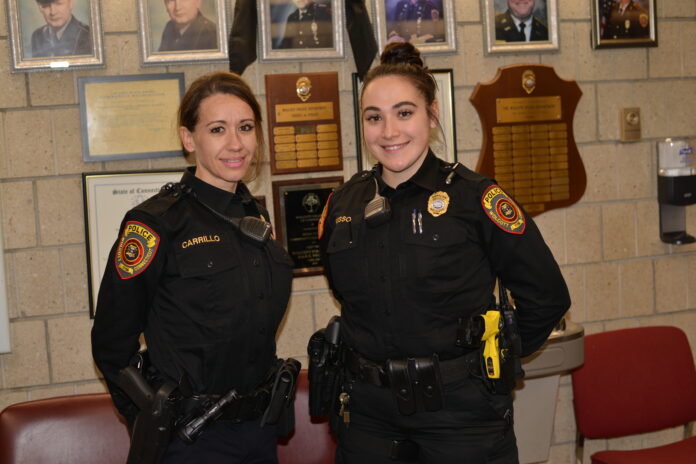 The Wolcott Police Department would like to welcome it's two newest members, both certified officers, Officer Sara Carrillo and Officer Danielle Russo.
Officer Carrillo had begun her career with the Waterbury Police Dept. in 1998. After 2 years she moved on the Dept. of Mental Health and Addiction Services Police Dept. where she worked her way up through the ranks to become a Lieutenant. Officer Carrillo's latest assignment has been as the Commander of the DMHAS Police Dept. at Capital Region Mental Health. Officer Carrillo is a Waterbury resident.
Officer Danielle Russo began her career with the Hartford Police Department in 2018. Officer Russo has rotated different shifts and different areas, working in the Patrol Division. Officer Russo is a Wolcott resident.
There was a very small swearing in ceremony on Dec. 29th. at the Senior Center in an effort to spread everybody out and follow CDC/Chesprocott guidelines. . Due to Covid restrictions this ceremony was only attended by the two recruits, their very immediate family, Attorney Tynan, Mayor Dunn, Chief Stephens, Lt.'s Malloy and Greene.
Being both officers are certified officers, they do not have to spend the next 6 months at the Police Academy, and will be beginning their new career with the Wolcott Police Department on 1/3/2021.