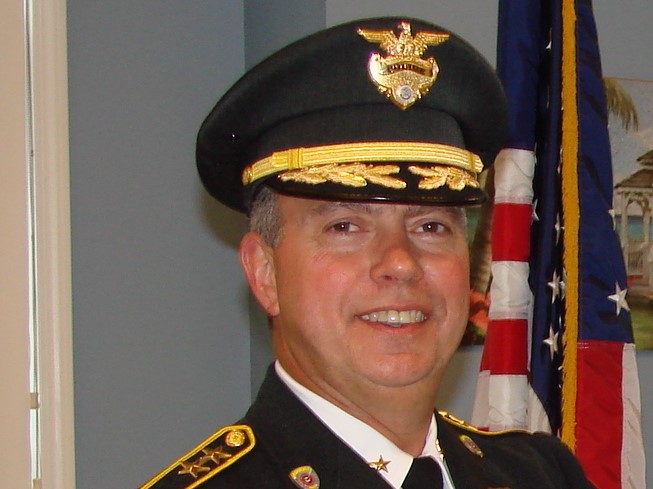 As we all know, the world is experiencing something that it has never experienced before. Covid-19, or Corona Virus. Covid-19 is a very contagious virus, that affects people differently. Some people will never even know they have it or are considered asymptomatic. By not knowing if they have it or not, they can easily pass it along to a vulnerable person, such as the elderly, or others who have prior medical issues, which risks the lives of those vulnerable people. As of this writing we have had thirty positive test results. Four of those positive test residents did pass away due to Covid-19.
Here at the Police Department it is not business as normal. We have taken numerous precautions to try to keep our officers and their families safe and healthy. Some of the changes are that we no longer are doing fingerprints for pistol permits or employment applications. Also, if you come into the Police Dept. you will not be allowed past the lobby. We have started a telephone response unit (T.R.U.). The T.R.U. are located behind the glass when you enter the Department. They handle all calls that do not need a police officer on the scene, such as reports for insurance purposes, civil disputes, past criminal mischiefs, etc. Any accidents, in progress crimes, or persons in need, an officer will be dispatched to the scene. Another change is that we do not hold roll calls. Officers go directly to their vehicles, sanitize them with wipes, then go right on the road. Supervisors contact them via radio or phone to give assignments. Each cruiser and officer is equipped with sanitized wipes, gloves, both surgical and N95 masks. Also, nobody at all is allowed into the dispatch center other than the dispatcher on duty. Our record Division hours have been altered to keep workers separated. The hours now are 7AM-3PM. We encourage people to call the Records division if you need a copy of a report and we will email or fax it to you. As always, accident reports are available online. Being First Responders, we still have to enforce the laws which sometimes lead to arrests. We will now give a misdemeanor summons for minor offenses, but still make custodial arrests when required. Officers will be wearing masks and gloves to give summons, or to arrest and process a prisoner. We also have been working very closely with our health district Chesprocott, Emergency Manager, Mayor Dunn and his office, The Fire Dept., Ambulance, School Supt. And all Department heads.
By working directly with Chesprocott we are able to receive and post on our Facebook Page, all positive tests for the Town, as well as age range and unfortunately, deaths related to Covic-19. The only way to keep these numbers down is by following the precautions from the CDC, The State of Ct. DPH, and Chesprocott. Chesprocott is also providing CDC guidance to the Town and we have been worked together to ensure the safety of the public.
Some of the closures in Town due to this virus are, the removal of the basketball hoops at Scoville, Peterson Park, and Frisbee School. All town owned playgrounds are closed down as well. The dog park has been closed as is the parking area on Scoville Rd to enter the trail. Also, today, April 8th, Monroe Field will be closed down. As of right now the Mill Plain Trail and Peterson Park are open. We have received complaints to both close, and to not close the trail or the park. These will remain open at this time as long as people social distance when they are walking at either location. There are valid arguments on both sides (close or not close), but according to Johns Hopkins Medical, and the CDC, "coronavirus is spread through droplets released into the air when an infected person coughs or sneezes. The droplets generally do not travel more than a few feet, and they fall to the ground (or onto surfaces) in a few seconds — this is why social and physical distancing is effective in preventing the spread". If everyone follows the precautions while on the trail, there is a very low risk. This risk is even lower if people wear a face cover and gloves. Of course, the best way to prevent any risk at all is to Stay Home. Social distancing isn't only to be done on the trail, but everywhere you go. When out for groceries, to pick up food, and other necessities, you still must social distance. Remember, by not socially distancing you are creating a huge risk of transmitting this disease to friends and family members. We are all in this together and have to do our part to end the spread of this very contagious horrible disease called Covid-19.