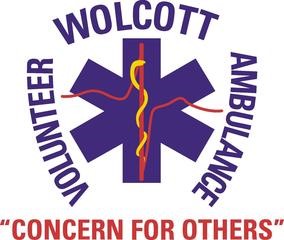 How Do I Become an EMT?
You see Wolcott Ambulances throughout the Town of Wolcott.  You may have even needed to use our services in the past, but do you know what kind of training we have?
Wolcott Volunteer Ambulance Association is authorized by the State of Connecticut to operate at the "Mobile Intensive Care Paramedic" level.  That means we respond to calls for help with at least one EMT and one Paramedic.  Some might wonder what is involved in becoming an EMT.
Emergency Medical Service (EMS) providers are overseen by the Department of Public Health Office of Emergency Medical Services.  The approved curriculum to become an EMT or Paramedic is set forth by the National Department of Transportation and taught by certified Emergency Medical Service Instructors throughout the State of Connecticut.  Once the course is completed, the candidate applies for testing through the National Registry of Emergency Medical Technicians (NREMT).  Upon successful completion of this national testing process, the State grants the new EMT a Connecticut certification to go along with their National Registry certificate.
The initial EMT course is a minimum of 150 hours.  During that time, the student learns basic anatomy & physiology of the human body, how to treat the sick or injured person, and how to administer life saving treatments such as oxygen therapy, CPR, and bleeding control.  This class is usually taught over a two-to-six-month period depending on the number of hours devoted to it each week.
Once you become an EMT, you can volunteer or work for an ambulance service and help those in need of medical assistance.   Many EMTs go back to school to become Paramedics, Registered Nurses, Physician Assistants or even Medical Doctors!
 Emergency Medical Technician class
 Wolcott Volunteer Ambulance Association is excited to announce our upcoming accelerated EMT Course!  This fast paced ten-week course will run from June 4th until August 11, 2022.  You will hear from several experienced EMS educators, be involved in hands on skills and gain the knowledge needed to become an EMT in your community!  Class will be held on Tuesdays, Thursdays and select Saturdays from 10 AM until 4 PM. For more information about this course, visit us at www.wolcottambulance.com (EMT courses tab), call us at (203) 879-4122 or email us at training@wolcottambulance.com.
Membership
Are you currently certified as an EMT or licensed as a Paramedic in the State of Connecticut?  We are looking for people to become part of our team.  Here at Wolcott Ambulance, you will find a diverse group of EMTs and Paramedics with experience levels ranging from a few months to over forty years!  Please contact us or download an application located on the "Volunteer Opportunities" tab on our website.
Stay Safe!
We couldn't do it without you!  We would like to thank each one of you for your continued support of Wolcott Volunteer Ambulance.  We are honored to serve this great community.  Don't forget, as you are out and about enjoying your activities, stay safe!