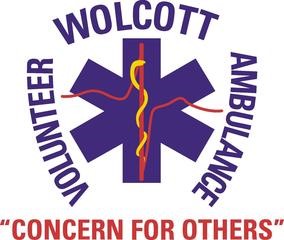 A Time of Thanksgiving
It is always a good time to give thanks for all that we have in our lives.  As we approach Thanksgiving and the 2022 Holiday Season, we are so thankful for the support we receive from all of you!  We are also grateful for our volunteer members and employees for their tireless dedication to delivering high quality, compassionate care to all in need.
 Ambulance Facility Update
 Have you heard the big news?!  Our new headquarters will be located at 1300 Woodtick Road, formerly occupied by the Saint Maria Goretti Church.  We are both excited and honored to be able to repurpose this beautiful property in such a way that it can continue to serve the Town of Wolcott.  We would like to thank Monsignor Ginty, the parishioners of both Saint Maria Goretti and Saint Basil the Great Churches, Mayor Dunn, and the Wolcott Town Council members for their continued support in finalizing our search for a new place to call home.
Throughout the next several months, we will construct new garage bays (in the rear of the property) and convert the existing structures at 1300 Woodtick Road into our new headquarters and EMS Training Center.  Soon, our administration and education operations will be the first to relocate to 1300 Woodtick Road, allowing us to oversee construction, and begin offering regular community level and EMT courses again!  Please continue to use the 48 Todd Road location for all unscheduled or emergent visits until further notice.
We look forward to celebrating our 50th Anniversary, and grand opening, at our new home next year!  Stay tuned for more details in the coming months and thank you all for your continued support of WVAA!
Community Courses
 We recommend everyone in our community take a CPR class with AED training and maintain that knowledge with regular refreshers.  You never know when you may need this valuable education and training.  For more information on community CPR classes, please call us at (203) 879-4122 or email us at training@wolcottambulance.com.
 Emergency Medical Technician class
 Have you ever thought about becoming an EMT?  This course will teach you what you need to know to take care of someone involved in a traumatic event or a medical emergency.  For more information visit us at www.wolcottambulance.com (EMT courses tab), call us at (203) 879-4122 or email us at training@wolcottambulance.com.
 Membership
 Are you currently certified as an Emergency Medical Technician or licensed as a Paramedic in the State of Connecticut?  We are looking for people to become part of our team.  Here at Wolcott Ambulance, you will find a diverse group of EMTs and Paramedics with experience levels ranging from a few months to over forty years!  Please contact us or download an application located on the "Volunteer Opportunities" tab on our website.
Stay Safe!
 We would like to thank each one of you for your continued support of Wolcott Volunteer Ambulance.  We are humbled and honored to serve this great community!